The RE/MAX Collection provides numerous tools from deluxe marketing collateral to experienced partners aimed at improving your success when meeting with prospective luxury clientele.
THE RE/MAX COLLECTION – LOOK BOOK
 /
This look book is designed to communicate the elevated experience and service your clients will receive with The RE/MAX Collection. Designed to be customized with your personal story. A standard version (without customized pages) is also available as a digital flipbook by copying and pasting the flipbook link, or by clicking "share" in the bottom right corner.
*Please note, pages 4 & 5 are designed to be customized with your agent and/or team information. Please use a graphic designer to incorporate your information if possible. If you would like a standard brochure, simply delete pages 4 & 5.
Printing: We recommend that this brochure be printed on Cougar stock – 100# cover and 80# text.
Take your luxury real estate business to the next level with The RE/MAX Collection print materials. Carefully thought out and crafted with high-end materials, you are sure to impress your clients.
Whether you are searching for a pocket folder to show off your marketing plan, a customized look book to bring to your next listing appointment, business cards to share with your clients, or thank you cards to show your appreciation – we have what you need.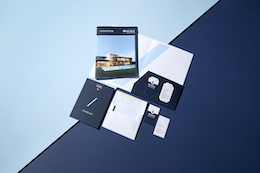 LUXVT is a real estate program designed to attract a V.I.P. audience. From building sophisticated websites for your listing to coordinating global exposure of print and digital advertising, this all-in-one service delivers your listing to every corner of the world. 
RE/MAX agents leveraging The RE/MAX Collection brand enjoy an exclusive 25% off standard LUXVT rates.